Low Carb Cherry Cheesecake
Published on 3rd Aug, 2022
A low carb version of one of our favourite desserts, perfect for an indulgent treat.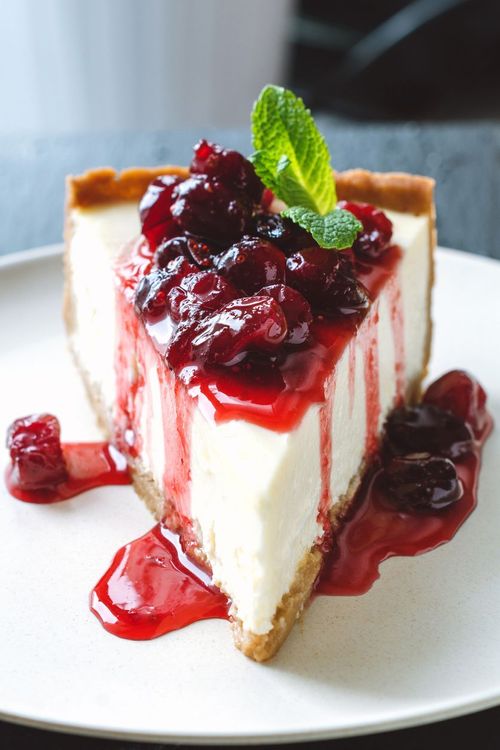 Low Carb Cherry Cheesecake (v)
Ingredients
For the base:
230g Ground Almonds
90g Butter
2 tsp Stevia
For the filling:
960g Soft Cheese
1 tsp Stevia
80ml Extra Thick Double Cream
4 Large Eggs
1 tsp Vanilla Extract
For the topping:
140g Cherries
2 tbsp Water
Directions
Preheat the oven to 180°C and line a 10-inch springform tin with greaseproof paper.
Melt the butter in a saucepan over a low heat. Once melted, remove from the heat and add the ground almonds and 2 tsp stevia, stir until the mixture forms a dough.
Press the dough into the bottom of the tin and go up 1 inch on the sides.
Bake the base for 10-12 minutes until slightly golden, then remove from the oven and leave to cool. Reduce the temperature of the oven to 160°C/140°C fan (320°F/280°F).
In a blender, add the soft cheese, 1 tsp stevia, extra thick double cream, eggs and vanilla extract. Blend on high for 2-3 minutes until the mixture is smooth.
Pour the mixture into the pre-cooked base and then bake for 1 hour 20 minutes. Remove from the oven and leave to cool.
While the cheesecake is cooling prepare the cherry topping. Remove the stones from the cherries and then simmer in a pan with the water for 5-10 minutes. Use a spatula to break the cherries apart and add additional water if you like the sauce to be thinner.
Remove the cheesecake from the tin and then pour the cherry topping on top.
You can also find this recipe on our extensive recipe system,
sign up now
for access to thousands of delicious recipes.