Low carb plant-based diets
Published on 24th May, 2022
Following a plant-based diet is a way of eating, which is continually growing in popularity over the years, but can you follow both a vegan and low carb diet?
Interestingly the principles of veganism and low carb can be very compatible, both ways of eating aim to reduce processed and refined foods, aiming to build a diet of whole, real foods. Meaning that a well-formulated vegan diet can also be low carb too.
A vegan diet is a plant-based diet including vegetables, grains, nuts and fruits. Vegans avoid foods derived from animals such as dairy products and eggs. Many people follow a vegan diet for several reasons including environmental, animal welfare and health.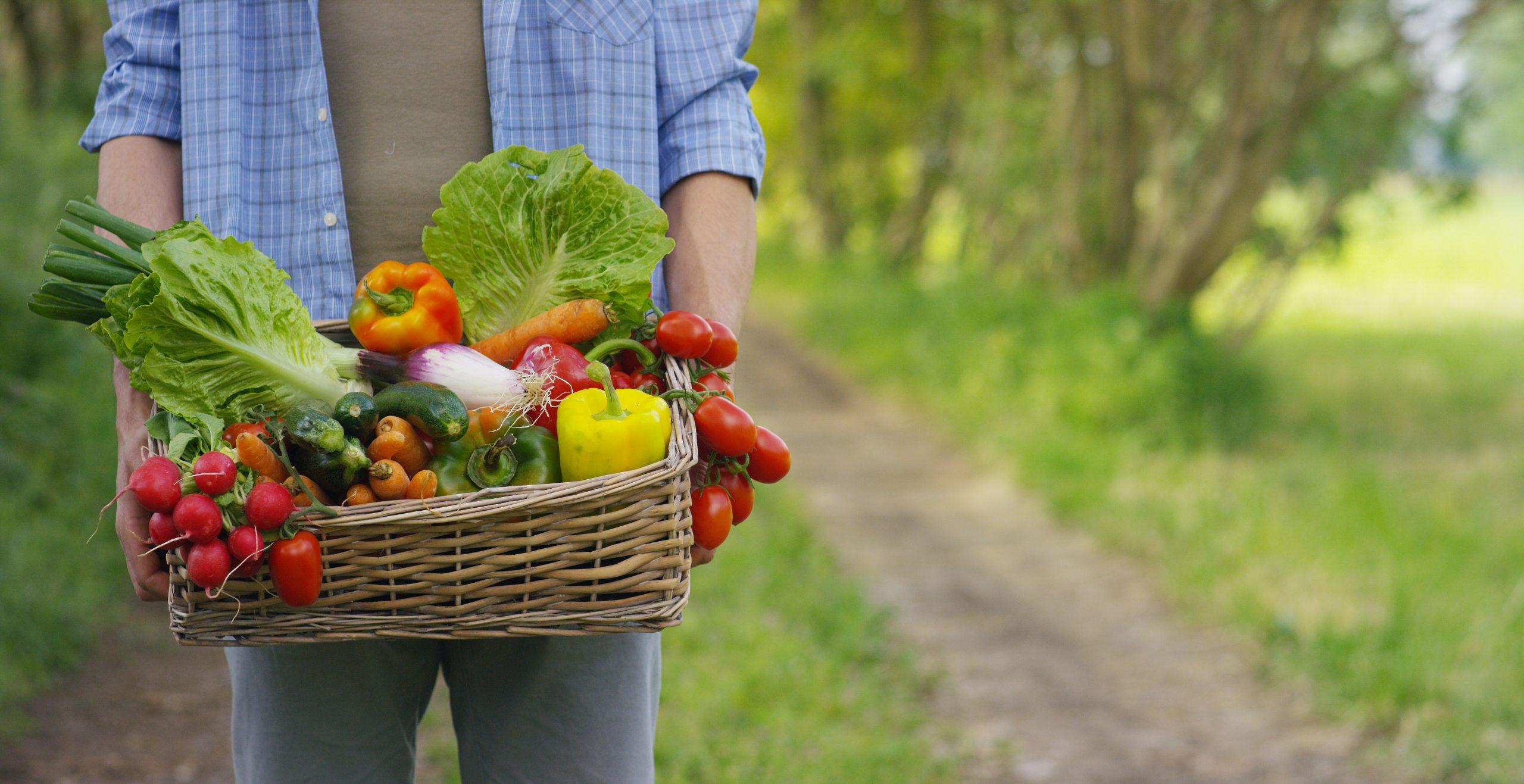 How can I eat vegan and low carb?
Whilst it might be more challenging to be low carb and vegan, it is achievable. Knowledge of the carbohydrate content of foods and education is key to following a sustained vegan, low carb way of eating. As the vegan diet is fully plant-based, often many meals include grains and pulses, these can be higher in carbohydrates. Therefore, it is important to be mindful when using pulses such as lentils, chickpeas and grains such as quinoa in order to keep total carbohydrates low. Grains and pulse are a great source of protein and fibre as well as many other nutrients so can definitely have a place in the low carb diet, especially in vegan diets, just in moderated amounts. The availability of vegan friendly products has dramatically increased in the last few years, in response to growing demand, including the introduction of vegan cheeses, yoghurt and meat substitutes. On the low carb diet as we look to reduce our consumption of processed foods, these substitutes can again be used in moderation, but making up the majority of our diet of non-processed foods is the aim.
Vegan low carb friendly foods
Alternative dairy sources include soya milk and yoghurt, coconut milk, cream and yoghurt and nut milks e.g. almond, hazelnut
Oils such as olive oil, coconut oil and avocado oil
Chickpeas, beans, lentils and pulses in moderation
Avocados
Nuts and seeds e.g. hazelnuts, almonds, pecans, walnuts
Nut butters e.g. peanut, almond
Vegan cheese
Quinoa in small amounts
Flaxseed
Chia seeds
Tofu, tempeh
Fermented foods such as kimchi, sauerkraut
Low carb vegetables such as cauliflower, aubergine, broccoli, brussels sprouts, tomatoes
Low carb fruits such as blueberries, strawberries and raspberries
Dark chocolate with a high cocoa content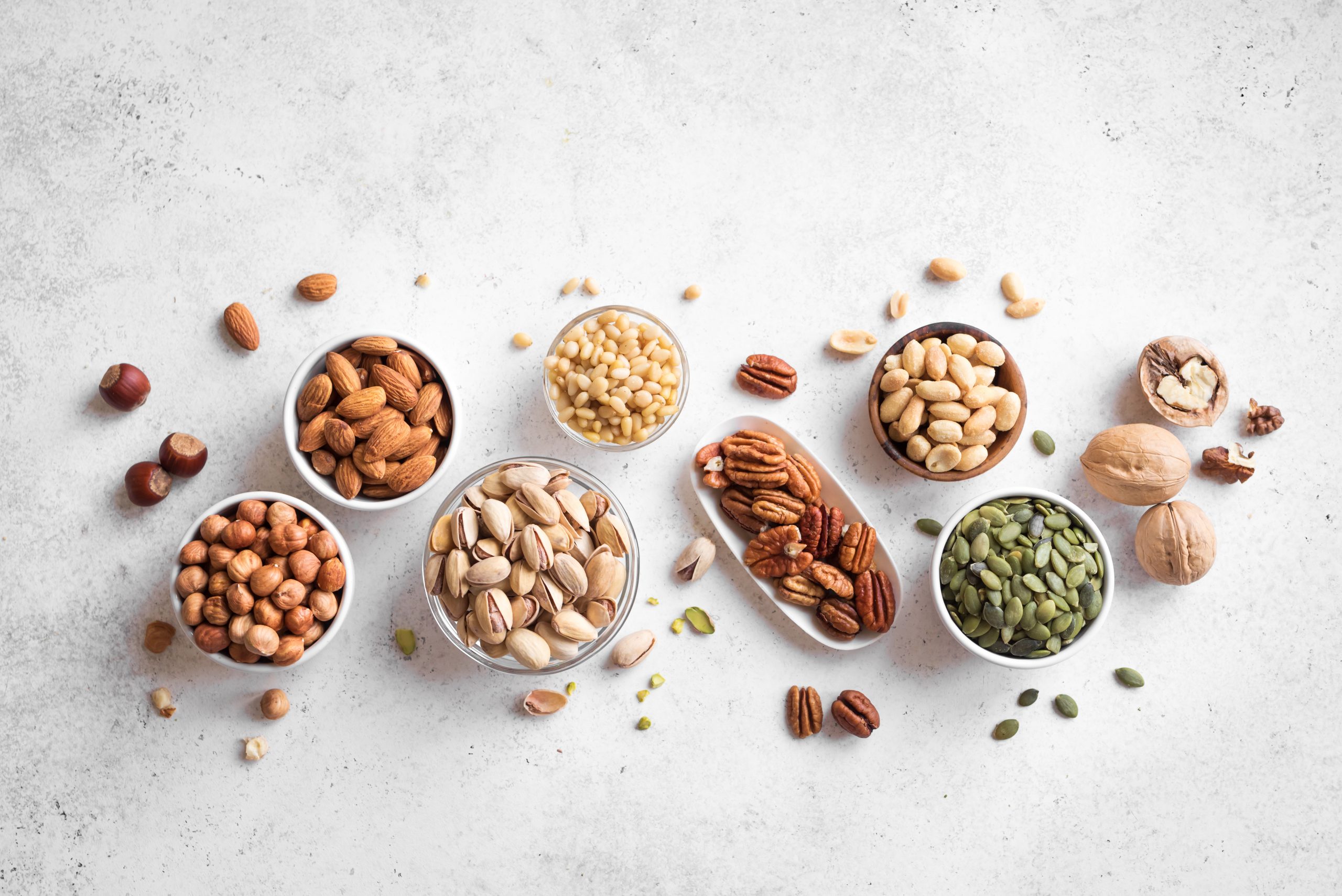 So now you have an idea that low carb is achievable with a vegan diet, what does a low carb vegan day look like? On the Low Carb Program we have 12 weeks of vegan meal plans made up of delicious meals just like the ones below.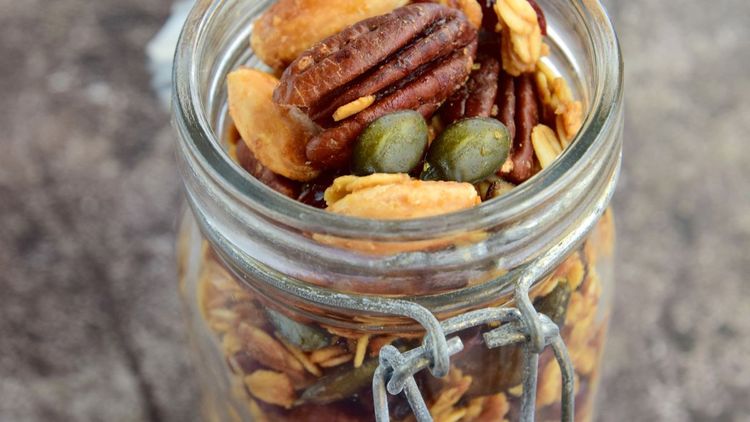 Breakfast: No Grain Cereal
Ingredients
50g Almonds
50g Pecan Halves
50g Walnut Halves
2 tbsp Pumpkin Seeds
2 tbsp Flaxseeds
2 tbsp Sunflower Seeds
1 Litre Unsweetened Almond Milk
Directions
Place all the ingredients in a large bowl and mix well.
To serve up, divide the cereal into 4 bowls and serve with the almond milk.
You can also find this recipe on our extensive recipe system,
sign up now
for access to thousands of delicious recipes.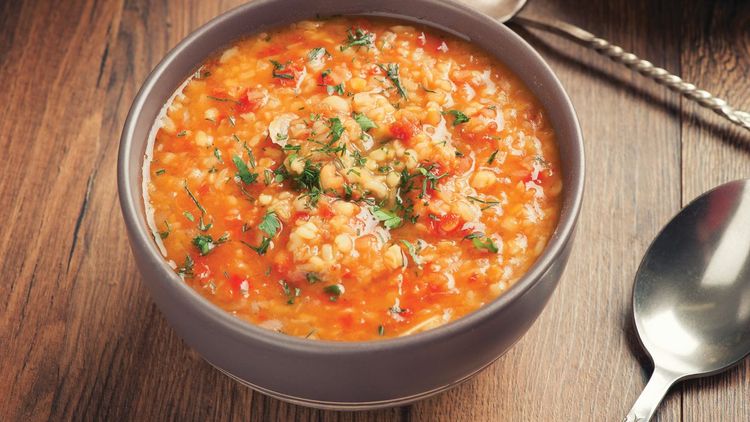 Lunch: Creamy Tomato and Lentil Soup (v)
Ingredients
2 Garlic Cloves
1 Handful of Fresh Basil
330g Cherry Tomatoes
2 tbsp Olive Oil
Salt & Pepper, to taste
150ml Water
60g Red Lentils
200g Coconut Cream
Directions
Preheat oven to 200°C/180°C fan (390°F/350°F fan). Prepare the ingredients by peeling the garlic and finely chopping the basil
Add the tomatoes and garlic to a roasting tray and drizzle with olive oil.
Season with salt and pepper and roast for 25 minutes.
Remove the tomatoes from the oven and add to a large saucepan. If you prefer your soup to be smoother, at this point blitz the tomatoes into a sauce with a hand blender.
Place the pan on the hob over a medium heat then add the water and lentils and season with salt and pepper. Simmer for 15 minutes, adding more water if it starts to dry, then add the coconut cream and basil and stir.
Serve garnished with basil leaves and cracked black pepper.
You can also find this recipe on our extensive recipe system,
sign up now
for access to thousands of delicious recipes.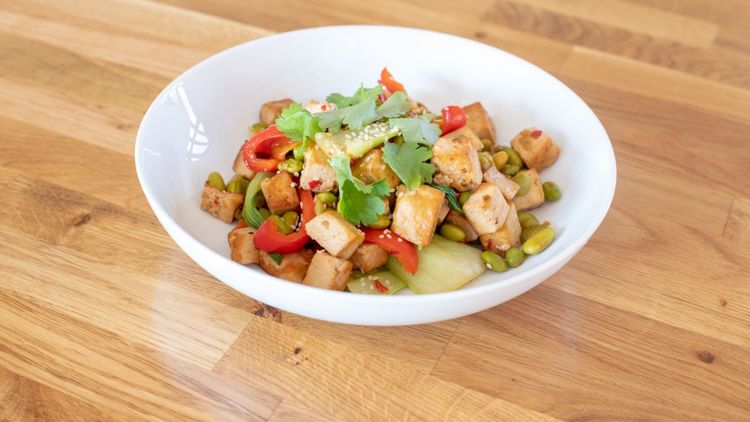 Dinner: Edamame Bean and Spicy Tofu Stir Fry (v)
Ingredients
1 Medium Red Chilli
1 Handful of Fresh Coriander
2cm Fresh Ginger
1 Clove of Garlic
5 Medium Spring Onions
1 Medium Red Pepper
2 Medium Bulbs of Pak Choi
300g Tofu
3 tbsp Olive Oil
3 tbsp Tamari Soy Sauce
300g Edamame Beans
1 tbsp Sesame Seeds
Directions
Prepare the ingredients by finely chopping the chilli, coriander, and ginger, crush the garlic, slice the spring onions and red pepper, remove the ends from the pak choi and cut the tofu into cubes.
Heat 3 tbsp of olive oil in a wok over a medium-high heat then add the chilli, ginger and garlic and cook for 2-3 minutes, until softened.
Add the spring onions and tofu and cook until browned.
Pour in the soy sauce and reduce then add the edamame beans, pak choi, red pepper and half of the fresh coriander.
Cook for 3-5 minutes until the pak choi and red pepper are tender, adding a splash of water if needed.
Divide onto plates and garnish with the remaining coriander and a sprinkle of sesame seeds.
You can also find this recipe on our extensive recipe system,
sign up now
for access to thousands of delicious recipes.